Chase Expeditions was delighted to partner with The Adaptive GrandSlam team, which returned to Everest in 2019 to demonstrate that despite life changing injury and disability, one can still overcome adversity and achieve incredible things. The plan to summit Everest – the highest mountain in the world – is part of a broader and ambitious plan…..
The Adaptive GrandSlam is a team of disabled adventurers who are on a mission to be the first disabled team in history to complete the notorious adventure Grand Slam which entails summiting the highest peak on each of the 7 continents as well as walking unsupported to both the geographic North and South Poles.
Martin Hewitt and Terry Byrne, climbing as the Everest summit team members, chose to climb with one of the leading Himalayan logistics providers – Russell Brice and Himalayan Experience (HimEx), who Victoria used to work for. Victoria and Chase Expeditions have spent the last 7 years working with and organising expeditions for severely injured veterans and those with disability, as well as having worked for one of the leading Himalayan logistics providers, so was ideally placed to assist the Adaptive GrandSlam team.
To date, AGS team members have reached the North Pole unsupported and have successfully summited Denali, Elbrus, Kilimanjaro and Aconcagua. They have been forced to abandon their first summit attempts on both Aconcagua and Everest due to severe weather conditions. AGS team members have also summited Grand Paradiso and Manaslu – the 8th highest mountain in the world – on training exercises.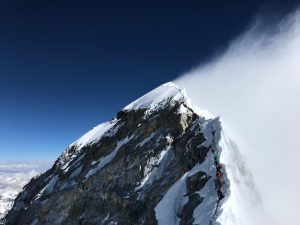 On 23 May at 0645, Martin Hewitt summited Everest. Sadly Terry had to depart from Base Camp ahead of the summit attempt due to complications with his amputated leg.
Martin is well on his way to becoming the first disabled adventurer to complete the Adventure Grand Slam.
This expedition has received noteworthy coverage, and has been featured on BBC Breakfast, BBC News, Good Morning Britain, and in the Times, The Daily Mail, and on ABC News in the US due to commentary on the disastrous consequences of increasing overcrowding on the mountain.
Chase was delighted to work on yet another noteworthy expedition and looks forward to supporting the Adaptive GrandSlam team with their future challenges.